It's getting spooky!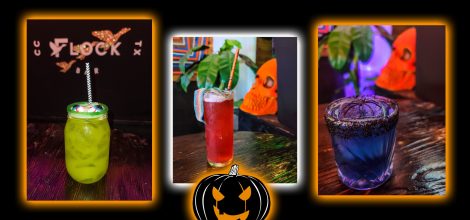 🦇🎃🍹 Introducing FLOCK's Spooky October Flocktails! 🍹🎃🦇
October is here, and at FLOCK, we're conjuring up some eerie elixirs to celebrate the season. Join us for Halloween Flocktails that'll send shivers down your spine:
🪄 Hocus Pocus: A bewitching blend that'll enchant your taste buds.
💀 Zombie Eyes: Eerie cocktails to make you feel like the undead.
🎃 Trick 'r Treat: Sweet and spicy concoctions for a mischievous night.
💡 Duck Brains Shot: Electrifying shots that light up the night.
Don't miss out on these spine-tingling sips, available for a limited time at FLOCK. Come in, sip, and get into the Halloween spirit with us!
📍 FLOCK Bar 🗓️ October Only 🦇 Spooky Flocktails 🎃 Halloween Vibes
Join us for a hauntingly good time at FLOCK this October!